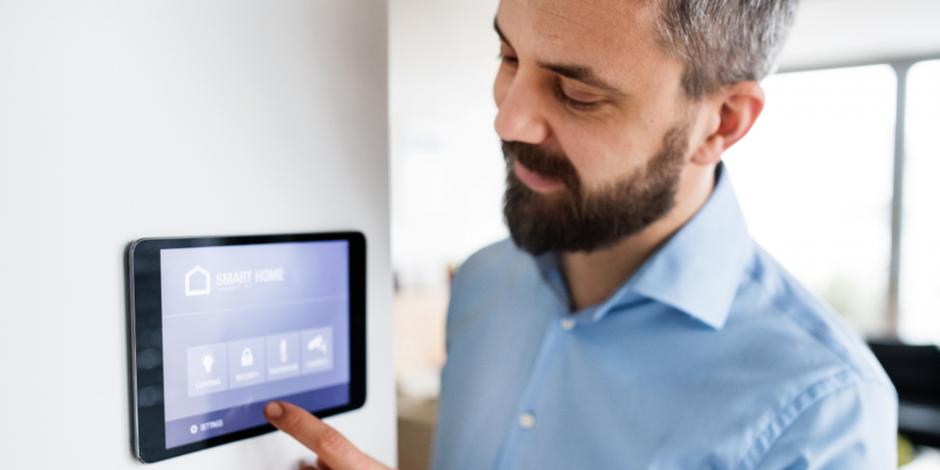 If you're like most of us, you probably use your smartphone to do just about everything but make a phone call — control the TV, check the weather, monitor your finances, and other everyday tasks. But are you using it to customize your home comfort?
A smart thermostat lets you do just that, plus so much more. If you've been considering upgrading the thermostat in your home but aren't sure if it's worth the trouble, here's what you need to know.
The Many Benefits of a Smart Thermostat
A smart thermostat offers energy savings, convenience, and more. Here are just a few of the benefits you can expect with your thermostat upgrade.
Save money with programmable settings
If you and your family are away from your home for nine hours a day during the work week, why are you paying to condition your home all day, every day? A smart thermostat makes it easy to set your heating and cooling systems to automatically turn on and off at different times throughout the day and week. This saves you money on your utility bills by conditioning your home only when it needs it.
What's even better is that smart thermostats like Honeywell's Lyric are incredibly easy to program. Simply adjust the temperature on your thermostat as you see fit for one week, and it will remember your behavior to create a custom schedule built around you — helping you get the energy savings you're looking for.
Control your heating & AC systems with your phone
Another advantage that smart thermostats have over conventional programmable thermostats is WiFi capability. Because WiFi thermostats are connected to the internet, you can control them from virtually anywhere using your smartphone.
Set the heat to turn on 20 minutes before you get home from work, or turn up your air conditioning from the comfort of your bed at night. Forgot to tell your thermostat you're going out of town for a week? No problem.
Get real-time info about your energy usage
Learning about your home's energy usage has never been easier. Through the app that controls your thermostat, you can also view your energy usage in real-time. This helps you make smarter decisions about how to conserve more energy.
Pair Your Smart Thermostat with Home Zoning
When you pair your smart thermostat with a zoned home comfort system, the benefits go even further. A zoned system divides your home into separately conditioned areas — say, the upstairs and downstairs of your home. Heat or cool only the downstairs of your home when you're using it during the day, and then heat or cool only the upstairs when you're using it at night.
The best part of home zoning is the added energy savings. By conditioning only particular areas of the home when they need it, you'll save even more on your energy bills.
Boost Home Comfort & Save in Your Rhode Island Home
If you're ready to enhance your indoor comfort and conserve more energy at home, talk to the home comfort specialists at CARJON. Our award-winning team of HVAC experts will help you design the right solution for your home, all while ensuring a positive experience.
Discover how much a smart thermostat can help you save on your utility bills. Call

401-232-9400

or contact us to schedule a consultation!