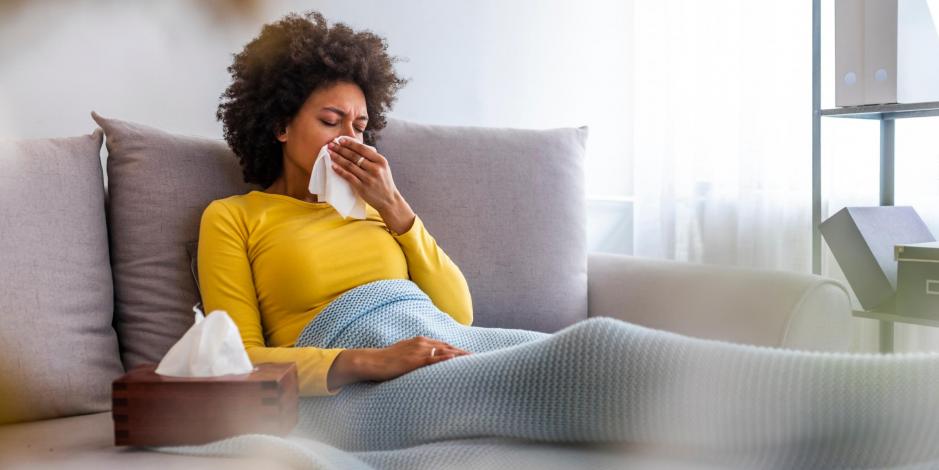 Do you wake up every morning with a sore throat or itchy red eyes? Do you have allergies that are worse inside your home? You could be dealing with poor indoor air quality (IAQ), and indoor allergies as a result.
Indoor air is often two to five times more polluted than outdoor air, and can be riddled with allergens like smoke, dust, pet dander, and mold. Breathing in these contaminants can lead to symptoms like: 
Coughing 

Sneezing 

Sore throat 

Eye irritation 

Dizziness 

Fatigue 
Indoor allergens can make anyone feel sick, and they can also worsen the symptoms of existing respiratory conditions like asthma. So how do you stop allergies indoors and keep your family healthy at home? Indoor allergy treatment starts with raising indoor air quality. 
Make Sure You Have Enough Controlled Ventilation 
When the air inside your home starts to feel stale and dusty, your first thought may be to open your windows to let some fresh air in. But doing so can actually make your indoor air quality worse by allowing outdoor air pollutants to get inside your home. Plus, it wastes energy and can drive up your heating and cooling costs. Instead, you need to make sure you have controlled ventilation. 
A controlled ventilation system allows fresh outdoor air to be filtered and conditioned before it's introduced into your living spaces. This makes your home more comfortable and energy efficient while improving IAQ so you can say goodbye to allergies at home. 
Install an Air Purification System 
A whole-home air purifying system, like the iWave air purifier, is one of the best ways to improve your indoor air quality. The iWave system actively removes pollutants like dust mites, mold spores, and bacteria from your indoor air. It's installed directly inside your central ductwork system and is self-cleaning, making it easy to keep your indoor air healthy. 
Control Indoor Humidity Levels 
When it's too humid inside your home, moisture and mold growth become a risk. Mold is one of the most common causes of allergies at home and can be seriously detrimental to your family's health.  When it's too dry in your home, on the other hand, you may experience symptoms like dry skin or a sore throat. To stay healthy, it's important to keep indoor humidity levels at an acceptable level. 
Whole home humidifiers and dehumidifiers can help control humidity in your home all year, stopping indoor air quality problems before they start. 
CARJON Is Your Partner for a Healthy Home 
If you want to make your home healthier, CARJON is the company to call. We've been in business since 1989 and have decades of experience helping Rhode Island homeowners create comfortable, healthy homes.
Our team goes above and beyond to provide an exceptional home improvement experience from start to finish, and we truly care about our customers. With CARJON, you can Live in a World of Total Comfort! Call us today to learn more about IAQ solutions for your Rhode Island home. 
Get rid of indoor allergies once and for all! Call

401-232-9400

or contact us to learn more about IAQ solutions.