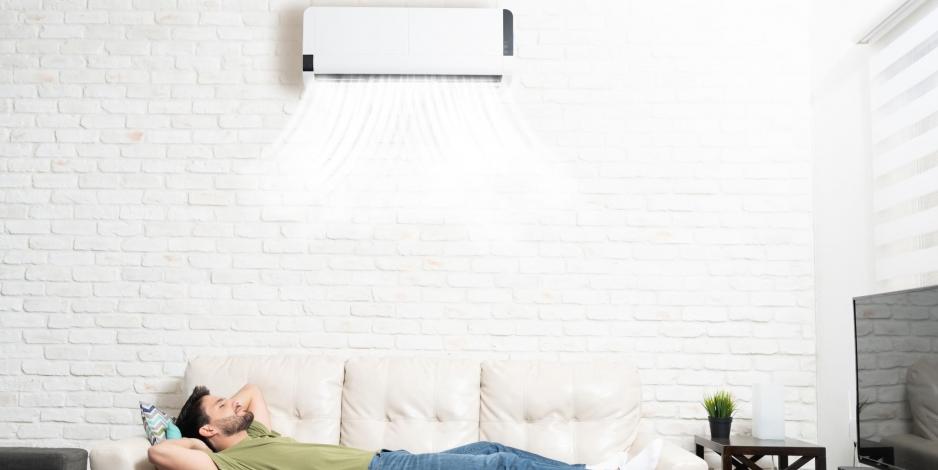 When you're choosing a new cooling system for your home, you have a few options. You can go the "traditional" route with a central air conditioner, or you can opt for newer technology and install mini split heat pumps. 
But is a mini split better than a central AC, or is a central AC better than a mini split? When it comes to HVAC systems, there isn't really a better or worse option. It's all about finding a solution that fits your needs and works with your budget.
Today, we're going to talk about the differences between mini splits and central air conditioners to help you decide whether a mini split installation or a central AC installation is a better choice for your home. 
What's the Difference Between a Mini Split and a Central Air Conditioner? 
Central air conditioners circulate cool air throughout your entire home using a duct system. The air conditioner removes heat and some humidity from the air, which then travels through your ducts and is delivered into most, if not all,  rooms in your home via supply vents. Return vents suck in warm air from your rooms and carry it back to your AC to be cooled down. 
Mini split air conditioners remove heat from your home the same way a central air conditioner does, but they don't use ductwork. Instead, indoor air handlers are installed in multiple locations throughout your house and cool the air directly in the room they are installed in. And, unlike your typical central air conditioning system, a mini split system has heating and cooling settings, so you can use them to condition the air in your home all year round. 
Benefits of a Mini Split Heat Pump 
Mini split heat pumps have a lot of advantages that make them a great choice for many homes in Rhode Island: 
Heating and cooling with one system 

Easy HVAC zoning for precise comfort control 

No ductwork means no duct cleaning or taking up space in storage areas

Eliminates energy wasted through duct leakage 

Energy efficient operation can help you save money 
Is a Mini Split Right for Your Home? 
A mini split heat pump could be the best choice for your home if: 
You Don't Have Room for Ductwork 
If you don't already have a central ductwork system installed, CARJON has a custom sheetmetal shop where we can fabricate ductwork customized for your home. However, if you don't have room for ductwork, a mini split may be better than a central AC. 
You Want to Make a Specific Room More Comfortable  
Mini splits are a great way to add heating and cooling to hard-to-reach areas like a garage, sunroom, or finished basement. You can even use just one or two indoor air handlers to supplement your existing central HVAC system. 
You Want More Control 
If your family is always fighting over the thermostat, mini splits can solve the problem by giving everyone control over the temperature in their own space. Mini splits also let you turn down the AC in one room while blasting it in another, which can save energy and money. 
Benefits of Central Air Conditioning 
Central air conditioning is a must-have feature for a lot of homeowners, and it makes sense—central AC works great in many homes. The benefits of central air conditioning include: 
Installation costs may be lower in certain applications

More effective at cooling a large home

Indoor air quality products can be easily integrated 

Highly energy efficient options available 
Is Central AC Right for Your Home? 
A central air conditioning system is probably the best choice for your home if: 
You Live in a Big House 
Central ducted air conditioners are better equipped to cool large homes. There is a limit to the number of heads you can install per mini split, which means you probably won't be able to put a head in every room if you live in a big house, or you'll need to install multiple outdoor units.  
You Already Have High-Quality Ductwork 
If the ductwork in your home is well designed, installed correctly, and in good condition, you're already set up to install a central air conditioner. The initial installation costs will likely be lower than installing a mini split system, and you can keep energy costs low by choosing a high-efficiency model. 
You Want a Central Air Purification System 
It's easier to integrate indoor air quality products like an air purifier or a dehumidifier into a central ducted AC system, giving you more control over your indoor air quality. 
Find the Best Cooling Solution for Your Home with CARJON 
CARJON is the go-to air conditioning company for homeowners in Rhode Island and we can help you decide what kind of air conditioner you should get for your home. We believe you deserve the absolute best home comfort and will help you find a solution that delivers. 
Our expert team offers a full range of air conditioning services, including mini split installation, mini split repair, mini split maintenance, central AC installation, central AC repair, and central AC maintenance. 
Get the best cooling system for your home. Call

401-232-9400

or contact us to learn more.