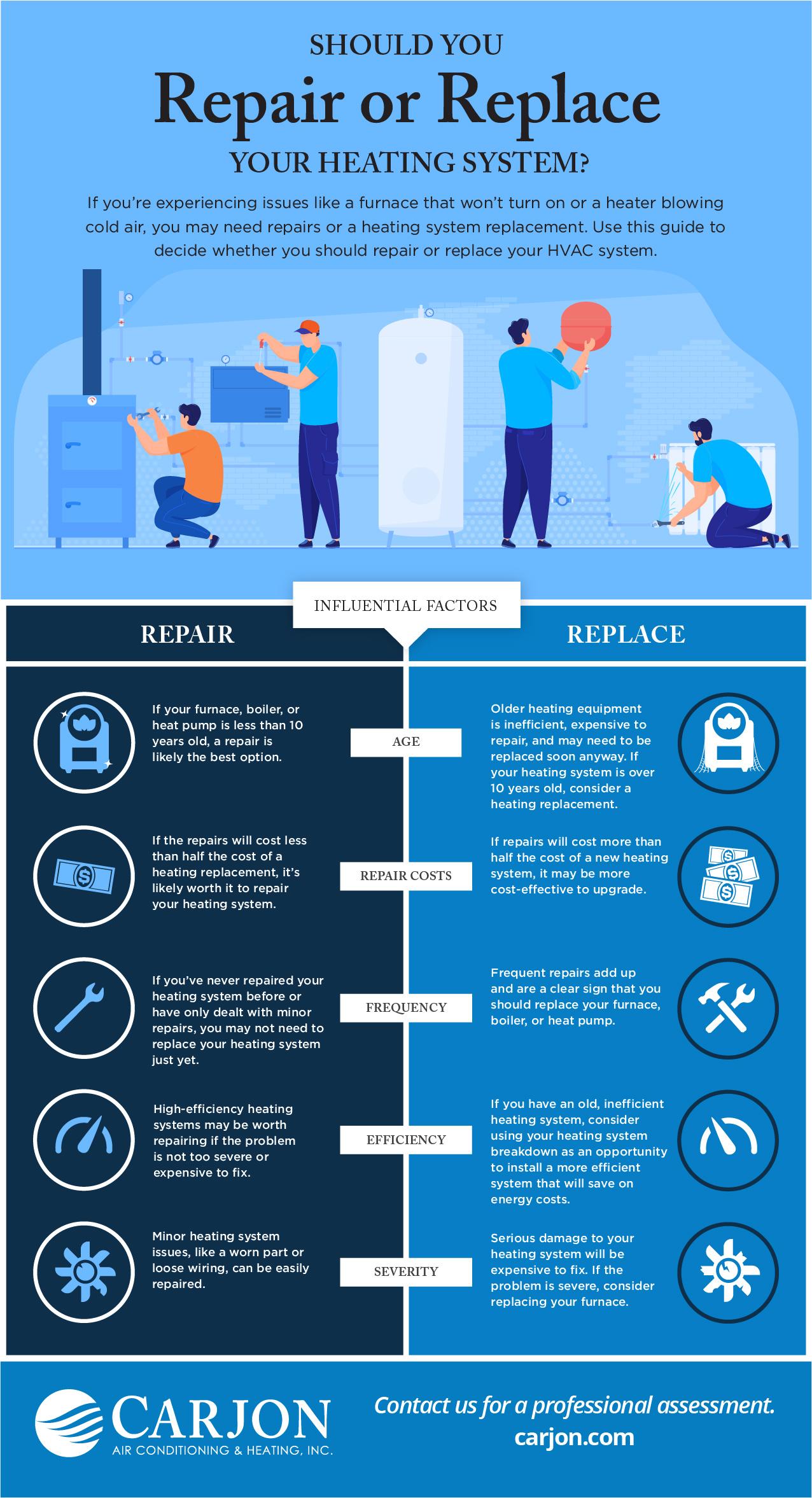 If you're experiencing issues like a furnace that won't turn on or a heater blowing cold air, you may need repairs or a heating system replacement. Use this guide to decide whether you should repair or replace your HVAC system. 
AGE 
Repair 
If your furnace, boiler, or heat pump is less than 10 years old, a repair is likely the best option. 
Replace 
Older heating equipment is inefficient, expensive to repair, and may need to be replaced soon anyway. If your heating system is over 10 years old, consider a heating replacement. 
REPAIR COSTS 
Repair 
If the repairs will cost less than half the cost of a heating replacement, it's likely worth it to repair your heating system. 
Replace 
If repairs will cost more than half the cost of a new heating system, it may be more cost-effective to upgrade. 
REPAIR FREQUENCY 
Repair
If you've never repaired your heating system before or have only dealt with minor repairs, you may not need to replace your heating system just yet. 
Replace 
Frequent repairs add up and are a clear sign that you should replace your furnace, boiler, or heat pump. 
SEVERITY 
Repair 
Minor heating system issues, like a worn part or loose wiring, can be easily repaired. 
Replace
Serious damage to your heating system will be expensive to fix. If the problem is severe, consider replacing your furnace. 
EFFICIENCY 
Repair 
High-efficiency heating systems may be worth repairing if the problem is not too severe or expensive to fix. 
Replace 
If you have an old, inefficient heating system, consider using your heating system breakdown as an opportunity to install a more efficient system that will save on energy costs. 
Not sure whether you should repair or replace your furnace or heat pump? Call

401-232-9400

or contact us for a professional assessment.